Events & Exhibits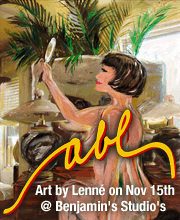 Treasure Island on Friday, November 15th
From the Eyes of a Woman @ Benjamin's Studios
Meet the artist and enjoy entertainment
November 15, 2009 from 3-7pm
Benjamin's Studios is located at 2000 104th Avenue, Treasure Island (St. Petersburg, FL)
---
Spring 2010 in Downtown St. Petersburg
Interior Motives Art Gallery
1110 Central Avenue in St Petersburg, FL
---
Past events
---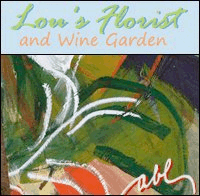 St. Pete Beach on Friday, October 16th
Beautiful Art & Wine Tasting @ Lou's Florist and Wine Garden
An evening of fine art and fantastic wine
Lenné's work of mixed media sculptures, paintings, ostrich eggs, and now her new line of holiday candles will all be on display. All artworks are for sale.
We are hosing an outstanding combination of palettes including Fine Art, our exceptional Wine Tasting, and a special Wine Presentation given by John Stambaugh.
Delectable hors d'oeuvre will be served from the Compass Grille (located in the beautiful Sirata Beach Resort on St. Pete Beach), this Friday, October 16, 2009 from 6:00 – 8:00 p.m. Bring a friend or two & don't miss out on this special event for only $5.00 per person.